How Does Facebook's Latest Facelift Affect YOUR Biz Page?
March 7, 2012
/
/

By Sherry Katz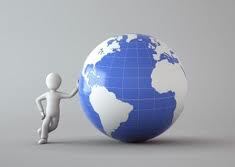 Just when you thought you had it all figured out, Facebook comes up with yet another change, and one that will affect all your Facebook business pages. As of March 30th, all FB business pages will be automatically switched to the new Timeline format by Facebook! You will have no choice in the matter.
What does this mean to you? Are you prepared?
While there has been much grumbling about the new Timeline format, we prefer to see it as an opportunity to strengthen our image and our branding.  As the old adage says, "When you get lemons, make lemonade." So let's!
Here's a summary of the most significant changes, and how you can benefit from them:
1.  Header: The new Timeline format features a large banner across the top, as well as a place for your logo. This gives you a large space across the top of your Facebook page, which you can use to create an impinging header or banner that will appear at the top of your FB page, similar to a website header. In the previous format, you only had a small space on the upper left of your page to put your logo or some kind of photo relevant to your business. Now you have the opportunity to showcase your business with a professional header, such as a large photo of your products or your premises. And you also have a square image of your logo showing in the lower left of that header as a separate image. This means your Facebook page can now have a big, bold branding image.
2. Landing Pages: Another significant change affects those of you who have previously had custom "fan gated" landing pages created. Previously, Facebook allowed you to designate a specially designed landing page that all visitors to your Facebook page would see first. Typically, these special landing pages were "fan gated" pages where a visitor had to click on the "like" button to reveal hidden content, available only to fans. This required creating two special pages, one for non-fans (which would come up first when they went to your site, and one for fams, which would be revealed when they clicked "like." Unfortunately, the new Timeline format does not allow special landing pages – all visitors go to your main Timeline page. I know, arrgghh. However, the good news is that you can keep all of that special content – it is just located in a different place.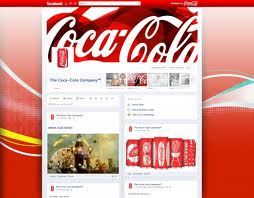 Take a look at Coca Cola's new FB page www.facebook.com/cocacola  (they redesigned it since the photo to the left was taken). You'll see the big splash header  and the box with the Coke bottle bottom left on header(a great place to put your logo). Below the header and logo images, you'll see the "About" section box to the left (and be sure to use this to inform visitors about your company and products) and to the right of this, you will see a series of boxes. These are called "applications." It is here that you will find any standard Facebook applications, such as Photos, Videos, and Likes, as well as any custom applications you have created. If you previously created any fan or non-fan landing pages, you will now find them here. To see an example of a custom application page, check out Coke's box called "Home".
This area of the Timeline page can take up to 12 apps. You can reveal all of the apps on a page by going to the small number and down arrow to the right of the boxes. Click on the down arrow and it reveals all the apps that Coke is using. (You will be able to arrange your particular boxes in the order you'd like, by the way) We recently made the switch to Timeline if you'd like to take a look. It's a work in progress. www.facebook.com/SkyHawkStudios
To prepare for this change, we would like to offer our services to create a custom header for you to show off your company's branding. We've put together a little "Facebook Branding Package". And just so you are aware, there are a number of rules that Facebook is implementing regarding what can and can not be included in your header design. If you are going to design your new header yourself, you'll want to make sure to find out and follow these rules. For instance, one rule is that you can't include a call to action in your cover photo (header) such as "Get it now" or "Tell your friends." Geesh.
If you've had landing pages and haven't customized your apps' icons, we can assist you with that also (Coca Cola customized their Home app icon with that house with the Coke bottle in it and some others with the circle Coke bottle cap. We did something different with our app icons too).
We can also create different custom app pages for you. These are basically like web pages that are inserted into your Facebook business page using special applications.
Whatever your situation, you won't want to be caught on the 30th with your professional "pants down". If you need assistance optimizing your business Facebook page, drop us an email, or call us at the studio: 503 235 0062.