Website Case Study: Rockmore International
July 10, 2017
/
/

By Jefferson Hawkins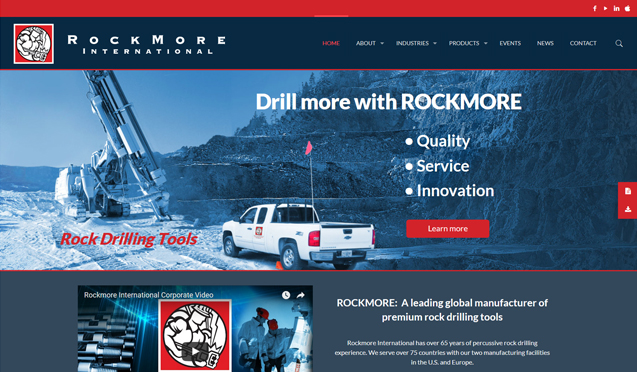 Click on the above image to go to the finished website
Developing an efficient website for rock drilling giant Rockmore International offered unique challenges. The site was a major project for Skyhawk Studios, over six months in development.
Company overview:  Rockmore International is one of the world's leading manufacturers of top quality percussive rock drilling tools. Their high-performance products include drill bits, DTH (down-the-hole) hammers and bits, extension and tunneling rods, integral and tapered rods, shank adapters and other drill tool accessories. Headquartered in Wilsonville, Oregon, Rockmore has manufacturing centers in Oregon and in Judenburg, Austria,  and distribution centers on nearly every continent.
Objectives:
1.  With hundreds of products and complex specifications for each product, it was essential that site navigation be clear, simple, and as frictionless as their high-tech rock drilling hammers.
2.  The site had to be fully responsive, as many of Rockmore's customers need to access the site while "on-site" in the field, on mobile devices and tablets.
3.  The site needed to be easy to maintain and update by Rockmore staff without requiring knowledge of computer coding.
4.  Customers had to be able to easily find and download product information, manuals, and specifications sheets.  With nearly 400 items for download, organization and presentation of the download items was crucial.
5.  Overall presentation needed to position Rockmore as a key industry leader, on the cutting edge of technical development and innovation.
Phase 1:  Planning and prototyping
After meeting with company executives and going over the objectives of the new site, we studied Google Analytics information for their current site to see how customers were accessing information, and planned how to better streamline and optimize the site. We developed a schematic of the site organization, and then wireframed the entire site using InDesign. This  user experience (UX) prototyping let Rockmore's team play with the proposed information architecture and see how the site felt, moved, and navigated.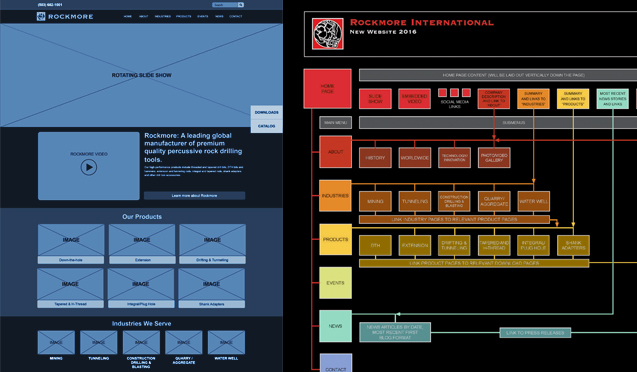 Phase 2:  Design and Styling
In designing the website, we took Rockmore's signature branding to the next level, to effectively communicate the power, precision and cutting-edge innovation of their product line. Rockmore has an established and recognized logo, and a signature color, red, which is the color of many of their products.  A range of deep blues was chosen to offset and highlight the red of their logo and products, giving the site a consistent, high-impact image.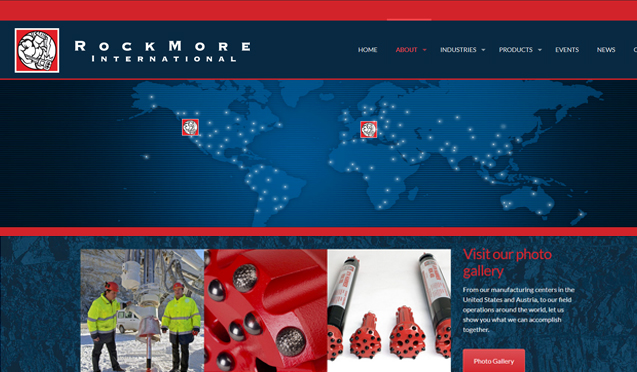 Phase 3:  Bells and Whistles
Content Management:  For ease of maintenance and upkeep, Rockmore's site was assembled using WordPress, today's leading content management system (CMS). Our clients appreciate the WordPress system as it has the fastest learning curve of any CMS and enables anyone to update and maintain the site with no computer coding training or experience.
Download Management: For the herculean task of managing Rockmore's nearly 400 download documents, we chose JoomUnited's WP File Download file manager. This robust plugin allowed us to organize the hundreds of catalogs, fliers, and product information sheets  so they are easily found and downloaded by Rockmore's clients. To make finding the download pages as simple as possible, we placed prominent sticky side buttons right on the home page.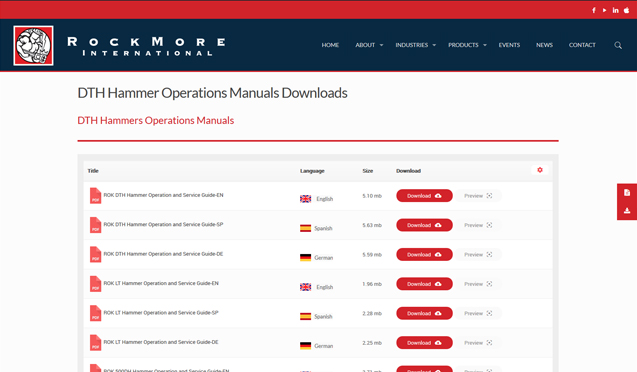 Events Management: Rockmore's many trade shows and events are easily managed and updated with the versatile Event List plugin.
Sliders: Moving slide shows on the Home Page and About Pages add impact and interest while highlighting key sales points.
Timeline: Rockmore's historical timeline, showing their expansion and breakthroughs over the last 65 years, is attractively displayed  and maintained using VicTheme's VisualLine plugin.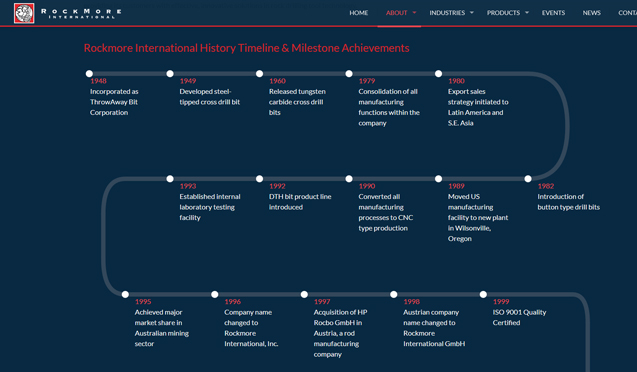 SEO:  Search engine optimization is managed by the workhorse Yoast SEO plugin, which makes it simple for the client to update and manage their own SEO meta tags.
News: An extensive library of over 70 past news articles and press releases was assembled, chronicling Rockmore's technical breakthroughs and expansion over the years.
Media: Embedded video and a gallery of photographs communicate the scope and professionalism of the company.
The Finished Site
Rockmore International has been extremely pleased with their new site.  We provided a customized 30-page instruction manual and Rockmore staff are already effectively maintaining and updating their own site through the user-friendly WordPress interface.
Rockmore International Executive Vice President Pejman Eghdami says, "
"We are very pleased with the website that Skyhawk Studios created for Rockmore International. Throughout the process, they listened to our needs and meticulously planned the site from the ground up to provide the best possible user experience to our customers and distributors. And we appreciate the fact that the site can be easily maintained and updated by our office staff  following simple instructions. Not only is the site smoothly functional, but it is beautifully designed to forward and enhance our Rockmore branding. I would recommend Skyhawk Studios to anyone."