How Does Your Website Rate in User Friendliness?
April 6, 2012
/
/

By Sherry Katz
What can we learn from studying a few Portland restaurant websites – How do they rate in user friendliness? How does your site compare?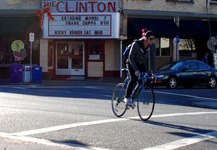 Imagine you're walking, biking or driving around your  neighborhood and you get hungry. And maybe you'd like to try a new restaurant. If you're in Portland, that means deciding  on which of our many excellent restaurants you haven't tried yet.
These days, the first thing you're likely to do, is pull out your Smartphone or iPhone and start searching nearby restaurants. And you'll check out their websites. What will you find – an interesting site where you can easily find what you need (hours, address, phone number, menu), or a confusing, frustrating site where you can't find anything?
I happen to be a real Portland foodie in addition to owning a graphic design studio, so it makes sense that I started looking at and analyzing our neighborhood restaurant websites. I couldn't help myself! And this led to Jeff and I making it one of our missions to create fabulous restaurant promotional materials for our local restaurants – websites, signage, menus – anything our local restaurateurs will need to get more people in their doors.
We started researching what makes a restaurant website good – and what makes some bad – and interestingly enough, when I Googled "Why Do Restaurant Websites Suck?" I found over a million entries! Obviously it's a hot topic.
What makes a restaurant website good? Well, in addition to clear, easily read content, clean and simple design and user-friendly navigation (important to any website), here are a few key points to keep in mind for restaurants:
Key information easily found above-the-fold, such as name, address, hours, phone number, map link, type of food.
Clear navigation to menus that are part of the site (not in downloadable PDFs) and are easily seen and shared on mobile devices. And include prices.
Tempting food and interior photos
So how did our local restaurant websites stand up? Well, I was pleasantly surprised to discover that for the most part, our neighborhood eateries have more aesthetic, better designed and more user-friendly sites than many other restaurant sites. We've analyzed quite a few and picked 4 to make an example of for this article, pointing out weaknesses and strengths, based on our understanding of  the restaurant-goer and today's world of mobile devices.
Let's start with one of my favorites:

Sunshine Tavern. www.sunshinepdx.com . Fortunately, the owners did not hire the same designers for their new establishment as they did for their other restaurant, Lincoln, which is done in all Flash Animation. (Flash websites can be aesthetic – more often they are annoying – and if Apple and Microsoft have a say, which of course they do, Flash is isn't likely to be supported on most mobile platforms in the future.)  Here is our analysis:
1) The site home page is excellent. Nice simple design, good branding, easy to read, great quality photos. When you land on their page, all the information you need to find the restaurant and make a quick food decision is right there. You have the name, address, phone and hours along with a place to click for a map.
2) Above the fold of the home page they have excellent photos (that are not in Flash!), showing the interior, the food, and the staff. (In fact, what led me into Sunshine to begin with was one of the photos of their chicken and waffles. That was all it took to sell me!)
3)  But here's where the site falls short: on trying to access the menus, one clicks on "Food and Drink" and is taken to another list that has a number of menu categories in it. Fair enough, but all the menus are in PDF form, and many mobile phones can't open or download PDFs. So not only can't the person on some types of mobile phones see the menu, but they won't be able to share it with their friends who will be joining them. Even on my home computer, it took a while for some of the menus to download.
Lauro Kitchen www.laurokitchen.com  – I used to frequent this establishment several times a week for a couple of years so am very familiar with their menu and service. Let's see about the user friendliness of their website:
1) The home page has a food photo that apparently rotates only when you navigate away from it and then come back. Too bad, as the photos are pretty tempting!
2) Above the fold of the home page, you can't determine the address and phone nor the hours. One has to scroll all the way down to the bottom of the page for an address and map link, or to find their hours of operation.
3) Lauro's menus and wine list are easily accessed and written in a font that is large enough to read without straining your eyes. The menus can be copied and shared on a mobile device and it seems that the menus are kept updated with Lauro's advertised seasonal menu changes.
This is, by the way, A VERY important point, which a lot of restaurateurs forget. Having your "Valentine's Day Specials" up on your site in April cries ou "nonprofessional" and denotes a nonchalant attitude towards your establishment. Some people might even think you are no longer in business! The same principle applies to any business offering coupons, specials, sales, offers etc. Stay current and fresh: an advertised "sale" that's been up on your site for a year will result not only in few actual sales, but will devalue your products and services in the eyes of the consumer.
UPDATE 2.19.13: Lauro is no longer in business, however a one page webpage is still up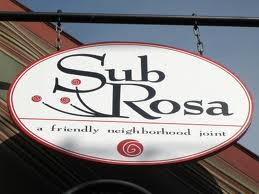 Sub Rosa www.subrosapdx.com – I happen to love this place. Great pasta and Caesar salad and the owner, MaryAnn, often on the premises, has a smile waiting for you no matter how busy she is.
1) In general, I like this site for its simplicity, ease of use and rotating slide show. Aside from the site being an out of the box template with a more "homemade" look, than professionally executed, it is functional. I just wish her web designer, if she has one, had given more thought to the top navigation area and the area above the rotating photos. There's plenty of space there to put the address and hours, yet you have to scroll down to find this information. However, the photos do tempt one inside –  good from both a viewer and owner standpoint!
2) The rotating home page slide show is really well done. There are interior and exterior shots as well as very scrumptious food photos. I would have made my way over there based on those photos only and an address, for sure!
3) Menu – the menus are navigated to from the top navigation bar, which is good – but unfortunately it then goes to two drop-down menus, for "Dinner" and Breakfast Weekend." One thing to keep in mind with mobile devices is that the user is using fingers to click, navigate, and expand the screen. So keep your navigation simple, clear, and large enough to be navigated on a small mobile screen. A top-level navigation button for both menus might be more user-friendly.
4) "About" and "What's Cooking" pages – these page on SubRosa's site have no content which is never a good idea for a professional business. It gives the establishment an amateur appearance, a "no attention to detail" feel.  It's always a better idea to hide pages that have no content until you're ready to publish them with good, relevant content.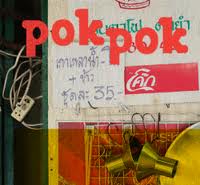 Pok-Pok www.pokpokpdx.com – this eatery is easily the most popular of any of our neighborhood's establishments. I wish their online presence was a bit more thoroughly thought out.
1) Before getting into functionality, I'd like to say that the home page artwork is truly eye catching! Great colors, interesting design, VERY creative! I really love what the designers came up with. It is a beautiful custom site.
2) The navigation could use some improvement. Clicking on a button labeled 'pokpok" takes you to what looks like another "home" page. Well, that's confusing. We still don't know what kind of food is served (and the photo on that second home page shows little stools at tiny tables, which look too small to be comfortable!) We can see what the hours are and what the address is, but unfortunately the main focus of the page is an invitation to their online store to buy "stuff" – like T-shirts!
3) Clicking on "Menu" in the navigation bar does bring up their menu (and good that it's not in PDF form), however, if anyone can read the menu without a magnifying glass or having to enlarge the screen a LOT, I'd like to know. If memory serves me well, this is the same menu as they give you in the restaurant and which is similarly difficult to read. I recall my frustration at trying to figure out what to order, since I couldn't read the descriptions. The type is way too small with too many entries running together and no photos to break up the text. (at least with photos we could see what we'd be ordering!) The spacing between menu items is almost nonexistent. If I were on a mobile phone, I would be very frustrated by all the menus they show online: Dinner, Lunch, Drinks and Desserts; each one poorly designed to begin with and impossible to read on a mobile device. On my iPad I've had to enlarge the screen to a ridiculous size to read a few entries and I even have glasses on!  The "To Go" menu is the only one that can be more easily read.
4) There are some actual photos of the food and restaurant but they're located under the sixth menu button, after a "Links" button that suggests a bunch of other establishments of various sorts.
5) All in all, PokPok's site is creative, interesting, and colorful. Very artsy. But it isn't the most user-friendly site for those on mobile devices though – and those menus just have to go!
Remember: people are really not that interested reading paragraphs of copy about the origin of your restaurant or your family history as much as these might seem interesting to you, especially if they're on the street trying to figure out where to eat. What people do want, especially on mobile devices, is information and they want it FAST: the type of food, prices they can expect to pay, some idea of what the atmosphere is like, the address, hours and how to get there and EAT!
There are many other restaurants we evaluated.  The above is a good cross section of our neighborhood restaurants. What about yours? We'd like to hear what problems (or satisfactions) you've had using your local restaurant's websites.
(By the way, if you would like an evaluation of your existing website on such things as user-friendliness, quality of content, etc, we would be very happy to assist you. Just contact us!)