SECRET: Search Engine Optimization (SEO) (for all us regular folk)
April 22, 2011
/
/

By Sherry Katz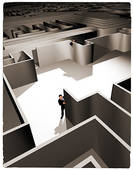 Alright. You've just started a business, or you've been in business for a while. Good. So you've heard about how important it is to optimize your website so search engines can find it, so more business can be driven your way from the web.  You've heard about how important it is to use just the right "keywords" and phrases, metatags, page descriptions, page titles, content words, link building. You think you need to be on page one of Google or (please) somewhere in the first three pages at least! You've gotten a lot of emails from companies promising to make you #1. You're swimming in a sea of information and all you want to do is get down to the business of…well, your business. Let's see if we can simplify the whole mess.
From SkyHawk Studios:

Search Engine Optimization Made Easy– The Secret
Well…sorry. But there is no secret. It's not even complicated. Read our brief explanation of search engines and optimization and you'll have it. Contrary to some of the SPAM emails you get offering search engine optimization services, being at the top could be worthless. The first step is to estimate the value of being at the top. We can help you do that.
Search Engine Optimization Explained
Here's a brief explanation of the search engines and search engine optimization. We think after reading this you'll be in a better position to talk about this subject and you'll understand what you are buying when you hire us (or another company) to do search engine optimization.
Google and the other search engines (let's just say Google from now on) use programs to read every page they can reach on the Internet. Information about each page is stored and then analyzed along with every other page to decide what searches the pages should appear for and in what order the pages should be shown. When you do a search on google.com, Google tries to put pages that are most what you are looking for at the top of the list. How exactly Google decides who to put on top is a secret. That's right, a secret. Not only is it secret, but it is subject to change and does change regularly. That's why you will run into a lot of wrong and misleading information about search engine optimization. Even the greatest experts are at the mercy of the people who control Google's method of ranking sites.
Still, much can be figured out about how Google ranks sites by looking at the sites that rank well and finding the things they have in common. Also, people manage to discover what works through trial and error – changing things on sites and seeing what happens when Google updates its lists. Our SEO staff have been doing search engine optimization for 10 years. Certain things haven't changed and these simple things are what we focus on when we optimize a website for the search engines.
One: Google needs to find your site. If you are a client of ours and aren't yet in the search engines, we will link to your site from ours. Google reaches your site via ours. That was easy. If anyone ever mentions "submitting your site to all the major search engines", just know they are talking about something that ceased to be necessary about 9 years ago.
Two: Google can't "see" your site, it can only read the text on your site. If the words you want to rank for do not appear on your site, you can't possibly rank for that search. Example, you want to rank for "poodle hair cutting" and your site has "dog grooming" all over it, but does not mention poodles or hair cutting – even though you may be relevant, Google has no way to know that. Therefore, you need to include all the terms you want to rank for on your site. If you do business in Boulder, but also want to rank for searches involving "Louisville", "Lafayette", and "Superior", then you better include those words on your site.
Three: This is high school. Google scores each site for each search term on "popularity". Google puts a lot of weight on popularity and it is usually popularity that separates the sites at the very top from the ones below. How does Google determine popularity? Simple! As Google reads the entire Internet, they take note of the pages that have links on them to your site. The more links, the more popular you are. OK, it's a little more complicated than that, because some links are better than others.
If you optimize your site for "ice sculpture Boulder" and then your friend, the IT(Information Technology) professional, puts a link to your site from theirs. It's not worthless, but it's not nearly as good as if an organization called the "Boulder Ice Sculpture Society", whose site is all about "ice sculpture Boulder", links to you. Better still,the link would contain your keywords instead of just your address. Having "www.yoursite.com" is one thing, but having "We highly recommend Arapahoe Ice Sculpting for ice sculpture in Boulder." where "ice sculpture in Boulder" is linked to your site would be amazing. That's what we call a "quality" link. If you manage to get several quality links to your site, then you could improve your rankings dramatically. This is especially true because few businesses have quality incoming links to their site.
Every search engine optimization effort centers around putting relevant text on your site and gaining incoming links. There are lots of little specifics about what to do with your text to get better rankings, and there a lots of ideas for getting incoming links, but it all boils down to those simple ideas above: if Google has found your site, your site is relevant for your keywords and you have some quality incoming links, you will fair well. The exception is when you are facing fierce competition for your keywords, which does require a more substantial effort.
Isn't that simple? We sure think so,  which is why we ensure that every website we build includes the rudimentary SEO elements you need to "get started".
Or we can develop a custom SEO program specific to your business, tailor made to your specific needs.
The SkyHawk Studios Staff